Diwali, also known as Deepawali
Diwali, also known as Deepawali, is the Hindu festival of lights. It is celebrated for five days across India and other parts of southern Asia, as well as in many other places around the world. It is the biggest Hindu festival and most important Hindu holiday of the year. During Diwali, people perform cleansing rituals, decorate their homes, gather for special feasts, exchange gifts and light fireworks.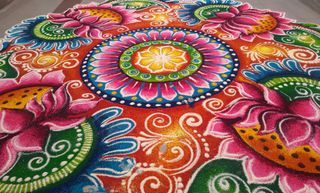 Homes are decorated with patterns made with colored rice, lentils and powder during Diwali.(Image: © Aisyaqilumaranas/Shutterstock)
Though the exact dates change depending on local custom, the festival is typically celebrated in the Hindu month of Kartik, which falls in October or November. In 2018, the festival will start on Nov. 5 and end on Nov. 9, according to the Indian Express. 
Diwali is "the most awaited and the most celebrated festival of India," according to the Society for the Confluence of Festivals of India (SCFI), an association that promotes awareness of the festival. It is like rolling "a bit of Christmas, New Year's Eve and the Fourth of July all into one," according to Hinduism today