As Diwali is a celebration of light triumphing over darkness, those who observe the festival typically decorate their homes with a plethora of lights.
People will also routinely clean their homes in preparation for Diwali, Mr Kashyap explains.
"In India every year, houses are cleaned, often renovated, and always illuminated with sparkling fairy lights and oil lamps," the general secretary and director of Hindu Council UK states.
Mr Kashyap outlines how many doorways and foyers are decorated with rangolis, beautiful, intricate patterns on the floor that are created using materials including rice, coloured sand and flower petals.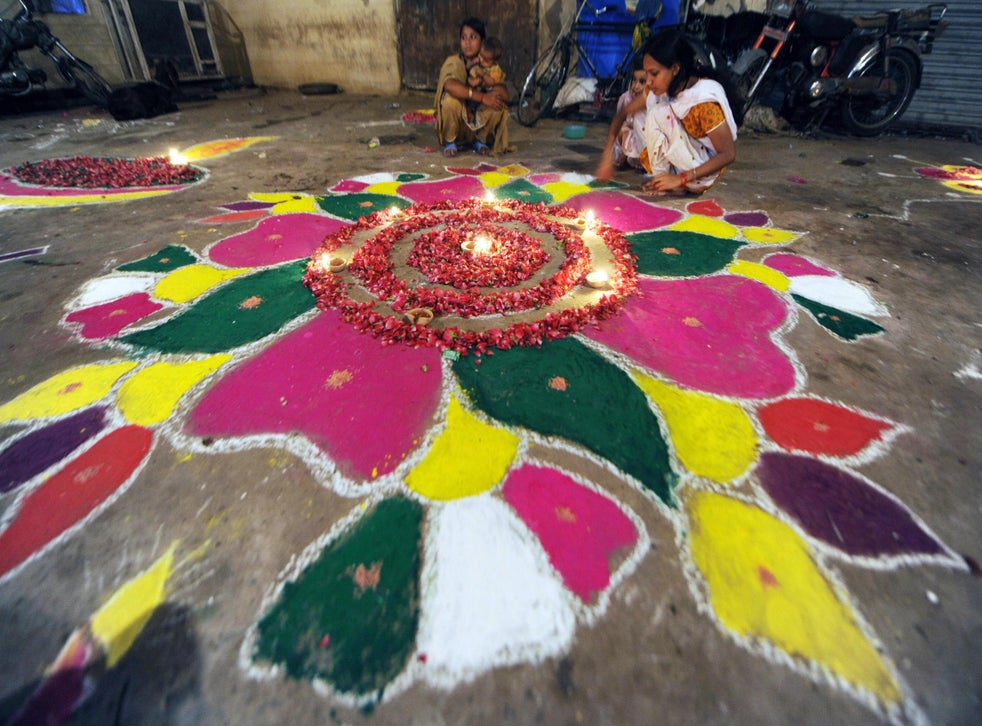 Gifts and sweets are also exchanged during Diwali, as are wishes for a "Happy Diwali".
Mr Kashyap emphasises that while Diwali is "probably best experienced in India", it is a global celebration.
"In London in particular, Diwali has become a 'mega event' to celebrate the culture and traditions of India," he says.
"From live music to dance shows and much more, London really goes for it. Add in a huge array of Indian food to sample from all the food stalls and a massive firework display to end the festival."
In Leicester, multiple events are taking place in celebration of Diwali, including the lighting of a 110-foot Ferris wheel and an exhibition of rangoli designs.
This year, Diwali begins on Sunday 27 October on the Gregorian calendar.
Watch more
The festival typically lasts for four to five days and coincides with the new moon on the Hindu lunisolar calendar, called amavasya.
The new moon is the first lunar phase, which is when the moon and the sun have the same ecliptic longitude.
Amavasya is known as the "darkest night" among Hindus, and is regarded as a powerful force for both good and evil.
Diwali is preceded by Navaratri, another Hindu festival that is observed every autumn over the course of nine nights.
Navaratri also symbolises the triumph of good over evil and commemorates the Hindu deity Durga, the goddess of war.