Millions of Hindus around the world celebrate Diwali with gift exchanges, fireworks and festive meals. The Diwali celebration in India takes place when the monsoon season ends and the weather is mild and pleasant. People try to pay off their old debts, make or buy new clothes and thoroughly clean their houses as part of the festival preparations. House exteriors are whitewashed and sometimes decorated with designs drawn in white rice flour and filled in with color. Buildings are traditionally illuminated with oil-burning bowls called dipa lights, or more recently, with strings of artificial lights. People spend time with their friends and family.
Diwali is also known as Deepavali, Dipavali, Dewali, Deepawali, or the Festival of Lights. It is celebrated in October or November each year. Diwali celebrations can last for about five days.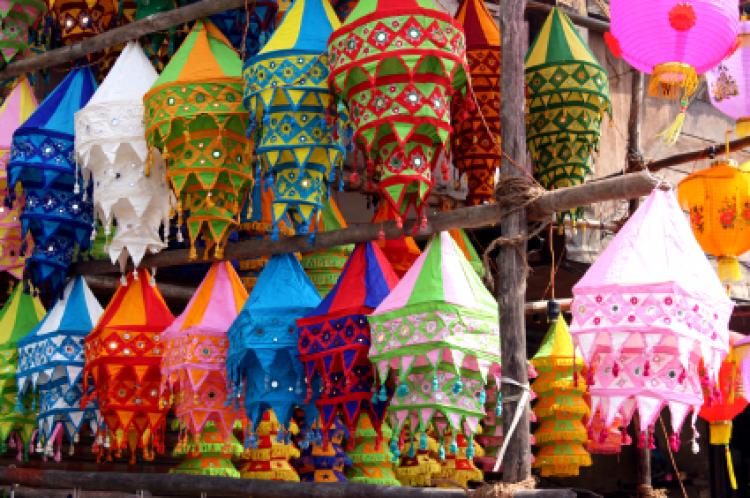 On the first day of the festival people pray, eat a special breakfast consisting of different foods, and the Hindu goddess Lakshmi's statue is carried throughout the streets in procession. Children are sometimes given candy or toys from booths set up for the occasion. In southern India children wear flower wreaths on their heads or anklets of bells. Boys in some areas construct elaborate castles and forts of mud and display them for visiting guests. After dark there are fireworks and people who live near rivers float lighted lamps on tiny rafts. To add to the festival of Diwali, melas (fairs) are held throughout India. These are found in many towns and villages.
Public Life
Diwali is a gazetted holiday in India so government offices and many businesses (including local offices and shops) are closed. It is not a nationwide public holiday in countries such as Australia, Canada, The United Kingdom and the United States but some cities hold large celebrations for the Diwali festival.